Easy to install Apache distribution containing MySQL, PHP and Perl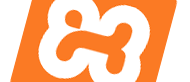 What's new in this version:
- Updated PHP to 5.5.1 version for Windows, OS X and Linux.
- Fix issue with RedHat-based Linux distros (i.e CentOS) in which the start script would fail to autodetect the distribution and start the servers.
- Create "mysql" user if it does not already exist on Linux. Now MySQL runs as "mysql" user by default.
- Change Apache and ProFTP users to "daemon" on Linux. The previous "nobody" user does not exist on some Linux distributions by default (i.e. CentOS).