It is designed to help you read and annotate scientific papers in PDF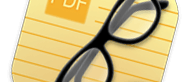 What's new in this version:
Bugs Fixed
- Fix loading of notes.

New Features
- New hidden default to disable animated search highlights.

Bugs Fixed
- Don't reopen last open file when reactivating Skim.
- Fix DVI conversion.
- Fix SyncTeX support.
- Compare tex files for TeX-PDF synchronization case insensitively.
- Consistently use one-based line numbers for TeX-PDF synchronization.
- Fix convert action in included skimnotes tool.
- Properly update row height when changing table font iun the preferences.
- Avoid a bug that prevented the jump-scroll system preference to be respected.
- Allow opening an alias to an associated PDF from a Skim notes document window.
- Fix the UTI used for RTF. Fixes a bug that may prevent exporting.