All your Internet needs in one free application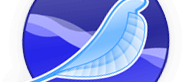 What's new in this version:
Mozilla platform changes:
- OMTC has been enabled by default on Windows.
- OpenH264 support (sandboxed) has been added.
- A new CSP backend was implemented.
- Support for connecting to HTTP proxies over HTTPS was implemented.
- Improved reliability of the session restoration.
- WebCrypto support has been enhanced: Added RSA-OAEP, PBKDF2 and AES-KW support, implemented wrapKey and unwrapKey, enabled import/export of JWK-formatted keys.
- Also see Firefox 33 for Developers.
- Fixed several stability issues.