A free application that lets you read Kindle books on your Mac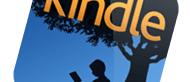 What's new in this version:
- New Fonts: We've added six new fonts (Caecilia, Palatino, Baskerville, Helvetica, Helvetica Light, and Lucida) in the Aa (Fonts) menu.
- New Column Reading Options: You can now choose to read with one-column view, two-column view, or multi-column view.
- Split Screen Support: You can now split your screen to read while using other applications on your Mac running Mac OS X 10.11 or above.
- Improved support for Magic Mouse gestures.
- General performance improvements.
- We've added a viewer for images, math equations, and footnotes – You can now enlarge and view images, mathml (mathematical markup language), and footnotes. Double-click images and math equations to open them in the viewer. To view and enlarge a footnote, tap the desired footnote. To close the viewer, use the exit icon in the upper right corner of the viewer window.