The most personal application for disc imaging yet for Mac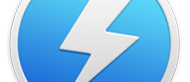 What's new in this version:
What's new:
- Improved localization (French, German, Chinese, Italian, Spanish, Japanese, Portuguese, Dutch);
- Ability to choose the way of showing application icons (menu bar, Dock or both);
- Prevention of ejecting virtual devices after quitting the application (except quitting via the Dock);
- Default selection of last mounted device for Eject functionality;
- Ability to get special discount offers during license activation or validation.

Bugs fixed:
- License dropped.
- Minor GUI bugs.