Organize and quickly manage your Mac menu bar icons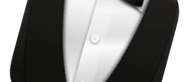 What's new in this version:
macOS Monterey Support:
- Bartender 4.1 fully supports macOS Monterey

Fixed:
Multiscreen fixes for Monterey:
- Some small fixes for setups with multiple screens

1 Password 8 popup showing when item moved:
- A workaround specifically for 1 Password 8 has been added

Items becoming unmovable on multiscreen setups:
- Setups with multiple screens and hidden menu bars (fullscreen apps etc.) could end up with items not being arranged correctly on macOS Monterey, this has been fixed

Some items not moving to correct position in Monterey:
- This has been fixed

Location menu bar item and Screen Recording not showing in expected positions:
- This has been improved

Not hiding left menu when needed on Monterey:
- This has been fixed

Memory leak:
- There was a slow memory leak effecting a small number of users, this has been fixed

Typos:
- There was a couple of typos in Bartenders preferences, these have been fixed. thanks all who reported them.