One of the best choices for a BitTorrent client on the Mac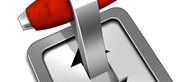 What's new in this version:
- Fix configure script issues with non-gcc compilers and user-defined CFLAGS environment variables.
- Decrease CPU usage in some situations.
- Cose a rare race condition on startup.
- More efficient use of libcurl when curl 7.18.0 or newer is present.