A free open source desktop planetarium for your Mac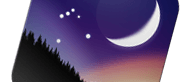 What's new in this version:
- Caldwell catalog for nebulae
- re-packed star catalogs (Hipparcos and Tycho-2)
- delta-T manager
- star magnitude limit control
- updates textures of galaxies and nebulae
- various small GUI changes.

The release has over 30 closed bugs in the core application and plugins.

Note: We updated the configuration file and the Solar System file, so if you have an existing Stellarium installation, it is possible that you need to reset the settings after you install the new version.