A free open source desktop planetarium for your Mac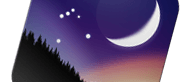 What's new in this version:
- New rendering engine (Now you can see shadows on planets surfaces).
- New key-binding engine (Now all key-bindings can be edited).
- Improvements to scripting engine.
- Improvements to DSO.
- Improvements to search tool.
- Improved accuracy for archaeo-astronomical events.
- A large number of bug fixes and GUI improvements.

Note: We strongly recommend resetting all Stellarium settings if you upgrade your previous installation!