A free open source desktop planetarium for your Mac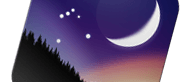 What's new in this version:
- Stellarium now takes into account the refraction of the atmosphere in the visualization of the sky so far, it seems, is the only planetarium simulates refraction in full.
- Redesigned search tool
- Oculars plugin rewritten & expanded. Includes binocular support, better CCD support.
- New plugin: Historical supernovae; now you can watch the flashes of bright 13 of these stars (in the calculation were taken only by those whose peak was brighter than 10m).
- Type of deep-sky objects on the "heaven" Stellarium's now possible to determine visually, without isolating the corresponding object.Increase in the number of satellites of the solar system planets.
- Were fixed annoying bugs in plug-ins and most of them acquired the improvements.By analogy with the description of the cultures of the sky began to speak in Russian and English of descriptions of landscapes.
- And, finally, has been fixed quite a few bugs in the Stellarium, including some from the list of "feature requests." There have also been a large number of bug fixes and some performance improvements.
- New users will find that some plugins have been enabled by default.
- Computers where an older version of Stellarium has been run will continue with the old settings unless defaults are reset.
- For Mac users, if you are running an Intel CPU, and OS X 10.5 or later, use the Intel binary. Otherwise use the Universal binary.