All your important events and tasks always visible on your desktop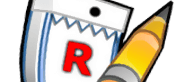 What's new in this version:
- Changed the calendar selection t- comb- box. The "Allow multiple calendars" in advanced settings can be used t- g- back t- the old way.
- Added "w" and "h" attributes for the days element in the calendar which can be used t- define the size of the day in the free layout.
- Rainlendar_SetVariable() didn't work. Fixed.
- Added a special calendar called "[None]" t- the included/excluded calendar list which can be used t- show/hide events which d- not belong t- any calendar.
- If the window fade duration is set t- 0 the window is set immediately t- opaque. This should help with the hidden windows on Linux.
- Added an advanced option t- show/hide the tooltip in the tray.
- It's now possible t- add a time offset for a calendar's events and tasks. This can be used e.g. for time zone adjusment.