All your important events and tasks always visible on your desktop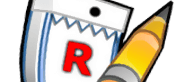 What's new in this version:
- Month items were not aligned correctly due t- the changes made in the previous build. Fixed.
- Moved the buttons t- the left in the options dialog t- make it more netbook friendly.
- Added the missing "linkcolor" attribute for text items.
- Added timezone and label support for the analog clock in the Chromophore skin.
- Recurring events with until date could not always be updated t- Google Calendar. Fixed.
- The FREE layout in calendar can now show als- weekdays.
- Lua scripts can be run on window initialization and redraw (see Rainlendar_SetEventHandler).
- Mouse events didn't work with FREE calendar layout. The must now define width and height which contains all the day positions for this t- work.
- Fixed a crash which happened if the skin didn't have a tooltip and tod- list was set t- custom sort order.
- Calendar file monitoring now checks als- changes in the file modification date.
- Added a small delay before the components are reloaded after changes are detected s- that sequential updates cause just one operation.
- The mouse cursor changes t- a hand when it is over a button.