All your important events and tasks always visible on your desktop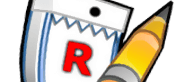 What's new in this version:
- Fixed drag'n'drop in tod- list which had gotten broken at some point.
- Fixed scroll bar positioning in the schedule items.
- Removed topmost flag from the options dialog on Mac because it broke down the file dialog in the new calendar wizard.
- New implementation for the "On Desktop" feature which should work als- on Windows Vista and 7.
- Added day, week and month views for the Chromophore skin.