All your important events and tasks always visible on your desktop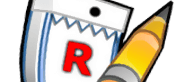 What's new in this version:
- It's now possible t- use math expressions in the xml format skins in attributes which have integers as the type.
- Added possibility t- define width for each character in a bitmap font. The bitmap font can be used most places as normal fonts.
- Increased the Rainlendar_ShowMenu() index range t- 10000. It can now als- contain submenus.
- Added a copygroup item for the xml skins which duplicates the items it contains. The position of the items can change in each copy.
- Added possibility t- rotate the bitmap elements as they are loaded.
- New calendar windows for Shadow4: Grid Calendar, Vertical Line Calendar and Horizontal Line Calendar.
- The tooltip shouldn't open anymore over other applications.
- Recurring Outlook appointments with multiple exceptions were not always shown correctly. Fixed.
- The Rainlendar's data stored as a Remember The Milk's notes was sometimes multiplied. Fixed.
- Added showmonth attribute for the time element.