All your important events and tasks always visible on your desktop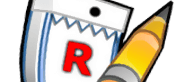 What's new in this version:
- Year long events were not shown correctly on the calendar. Fixed.
- Added support for description, location, status and alarm properties for the RTM tasks.
- Fixed a memory leak in the event list.
- Tray icon now shows the status when Rainlendar is synchronizing the network calendars or when it is in offline mode.
- Alarms didn't work for Outlook tasks. Fixed.
- Calendar shows only the future recurring tasks if the "Hide completed tasks" is enabled.
- Setting a repeated task completed marks it s- until the current date (instead just t- the alarm time like previously).