A visually compelling ten foot interface for your big screen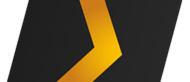 What's new in this version:
PHT fixes:
- Close all filter dialogs when closing the MediaWindow
- Sort unwatched filter to the top of the list
- Fix subtitle/audio stream names. Now includes subtitle format and forced flag
- Removed Subtitle->Charset setting since the server always gives us UTF-8 subs
- Show left side menu in Queue/Recommends window
- Add new Universal Plex font to subtitles

Skin fixes:
- Fix vertical align position of Home secondary menu
- Don't show left side menu in Channels.
- Keep filters list vertical position consistent in all conditions.