Award-winning productivity application for Mac OS X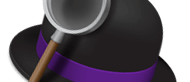 What's new in this version:
New Features:
- New debugging options for Workflows. Click the bug icon when editing a workflow. Debug filtering options available such as selecting the unique object you would like to see the debug info for, and error or full log info.
- New organisation options and filtering for workflows, with categorization. Available in Workflow preferences search drop-down.
- Copy and Paste workflow objects e.g. from one workflow to another.
- Added option on workflow list popup menu to duplicate workflows.
- Default support for Airmail.app added for creating emails with attachments.
- Option to use metadata for contacts search instead of Address Book API. Gives better word based and diacritic matching.
- Singapore added to the web locations.

Improvements:
- Improve Alfred's knowledge sorting for fixed and unique filter results (e.g. a hotkey attached to file filter, or uniquely selecting the 'open' file search).
- Correctly detect and format addresses in the contact viewer, fixes issue where e.g. US address formatting wasn't correct.
- Clarify the 1Password advanced prefs for 1Password 3 and 1Password 4 differences.
- Add some Amazon web localisations for AU, BR, CN, MX, IN instead of falling back to amazon.com.
- Improved reindexing with option to delete /.Spotlight-V100/ for most thorough metadata reindex.
- Add back in touching folders to latest time-stamp to enhance subsequent sorting in Alfred (and Spotlight). Preference in Alfred's Features > File Search > Advanced.
- Multi-selection now allowed in Workflows for re-categorisation and deletion.
- Respect alternative metadata names in app cache for better internationalized matching.
- Request contacts access on starting Alfred rather than first searching for better user experience.
- List hotkeys in correct order to match Apple's HCI guidelines (ctrl, alt, shift, cmd).
- More efficient fixed font loading.
- Show contact suffix if available, e.g. BSc.
- Ensure that multi part surnames are found in Alfred e.g. Mc Smith.
- Nicer icon for the 'tags' keyword similar to Finder's tag icon.
- Turn off smart quotes and substitutions by default for snippets editor.
- Better Unicode support for full URLs in the Open URL workflow action.
- Reset the iTunes XML patch cache when reloading the music library.
- Fall back to workflow icon if icon is nil in Script Filter (currently shows a folder icon).
- Improved rendering in workflow editor canvas.

Bug Fixes:
- Prevent smart quotes in the AppleScript workflow action editor.
- Fix text in reindex terminal window as dot is no longer shown in Spotlight magnifying glass when reindexing.
- Remove non working Appsfire web search as it now uses AJAX and Appsfire are shifting business models.
- Remove irrelevant popup options when there is an invalid workflow.
- Update Google images / maps URLs to newer format (non subdomain).
- Remove (+) copy mouse icon when dragging fallback categories in preferences.
- Remove erroneous 'Name:' label from File Action trigger preferences.
- Improve reliability of multi-file buffer grid preview (actions view) on hovering mouse.
- Ensure object is correctly re-selected in workflow editor when resizing window, or showing the workflow debugger.
- Remove ability to use Dropbox's Apps folder for syncing as this is still causing quirks for a small number of users (only affects new syncs).
- Remove window flicker when using the "Use Spotlight metadata for searching contacts" and opening contact in Alfred.
- Fix incorrect tooltips in workflow editor.
- Code refinement and performance enhancements.