Award-winning productivity application for Mac OS X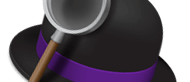 What's new in this version:
- Alfred iTunes Mini Player compatibility improvements for iTunes 11. Note: The cmd+alt+[key] shortcut keys in the Mini Player have now changed to using cmd+ctrl+[key] e.g. cmd+ctrl+up for random album.
- Work around iTerm2 pause when running terminal commands.