It is designed to help you read and annotate scientific papers in PDF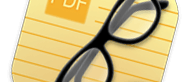 What's new in this version:
New Features
- The Split PDF feature is now also available in Full Screen mode.
- You can now open folders containing files Skim recognizes.
- New hidden preference to hide full screen side panels when they are closed.
- Enable tablet scribbling in presentation mode.
- Extend freehand notes by holding down Shift.

Bugs Fixed
- Always enable zoom slider in full screen navigation controls.
- Continuously auto-scroll during certain drags.
- Fix reopening documents from a session bookmark.
- Fix reading of setup bookmarks.
- Workaround for Tiger crasher due to uncommitted editors.
- Don't let PDFKit animate page transitions when Skim already does.
- Always activate open or minimized windows when clicking the dock icon.
- Use correct rotation for placeholder thumbnail.
- Avoid hang due to thumbnail drawing.