Fastest web browser for Mac from Apple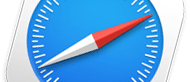 What's new in this version:
- Now, with Safari 4, you can choose your favorite sites from a stunning wall of graphical previews with Top Sites.
- Flip through websites as easily as you flip through albums in iTunes with Cover Flow. Easily retrieve sites you've seen before with Full History Search.