Easily creating and manipulating numerical data with NumPy!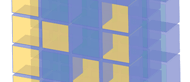 What's new in this version:
- The NumPy 1.21.1 is maintenance release that fixes bugs discovered after the 1.21.0 release and updates OpenBLAS to v0.3.17 to deal with problems on arm64.
- The Python versions supported for this release are 3.7-3.9. The 1.21.x series is compatible with development Python 3.10. Python 3.10 will be officially supported after it is released.