Alerts you about outgoing network connections for your Mac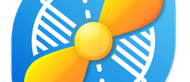 What's new in this version:
- Significantly reduced CPU load of Little Snitch menu bar item.
- Improved searching for denied connections in Network Monitor.
- Improved compatibility with OS X 10.10.4.
- Fixed: Menu bar item sometimes got stuck in highlight mode.
- Fixed: Editing of multiple rule selections didn't work in certain cases.
- Other stability improvements and bug fixes.