Alerts you about outgoing network connections for your Mac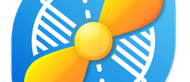 What's new in this version:
- Refined appearance in configuration UI to better match the look of OS X Yosemite.
- Improved user experience when a connection attempt was automatically confirmed after a timeout.
- Fixed an issue causing a first time installation of Little Snitch to hang under rare circumstances when attempting to restart the computer.
- Fixed a bug introduced in Little Snitch 3.5 causing "Until Quit" rules to remain enabled after the process quit.
- Fixed an issue in Network Monitor causing the destination of a connection to be wrongly shown as "0 Servers".
- Improved compatibility with Xcode Server.