Alerts you about outgoing network connections for your Mac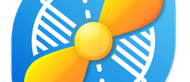 What's new in this version:
- Greatly improved support for iOS Simulator apps in Connection Alerts, Network Monitor and Configuration. Read our blog post for details on how iOS Simulator apps are now handled in Little Snitch.
- Added support for showing iOS App Extension icons.
- OS X 10.10 Yosemite changed how incoming ssh connections are handled. Incoming connections are no longer handled by sshd directly but instead by launchd. On OS X 10.10 Yosemite, this version of Little Snitch automatically converts existing rules to ensure incoming SSH connections work as expected.
- Little Snitch menubar item no longer occupies space when disabled.
- Fixed: The process owner in Network Monitor Snapshots was "root" instead of the actual user in many cases. Snapshots now store the user's names and show them correctly.
- Software update checks are now using HTTPS. We will gradually enable HTTPS for all other connections to our servers in the near future.

Improved handling of via connections:
- Connection alerts now show a cancel button if either the parent or the via process is terminated.
- Until Quit rules are now valid until both the parent process and via process have terminated.