Alerts you about outgoing network connections for your Mac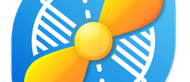 What's new in this version:
- Little Snitch is now compatible with OS X 10.9 Mavericks.
- Added a welcome window to Little Snitch Configuration to help you get started (shown automatically after updating).
- Instead of some alerts, notification are shown in notification center.
- The Network Monitor window can now be dragged to a screen that lies above a screen with a menu bar.
- Improved filtering behavior during system startup.
- Improved Profile Switching Alert behavior.
- Improved Network Monitor window positioning on multiple display setups.
- Fixed an issue causing Little Snitch to display IP addresses instead of the actual hostnames.
- Fixed an issue where a Network Monitor document couldn't be saved from the closing dialog.
- Fixed a rare hang in conjunction with certain screen savers.
- Copy/paste of rules now preserves process-owner attribute.
- Other bugfixes and improvements.