Alerts you about outgoing network connections for your Mac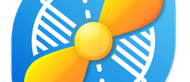 What's new in this version:
- Improved detection of invalid domain names.
- Improved IP Address range detection.
- Improved Ruleset Analyzer.
- Improved search filter behavior in Little Snitch Configuration.
- Reduced CPU load in Silent Mode.
- Performance improvements of kernel extension.
- Fixed: Restoring of factory rules on restart.