Alerts you about outgoing network connections for your Mac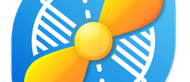 What's new in this version:
- Added rule backup functionality (Rules > Backup…)
- Import of unsuitable backup files is no longer possible.
- Installer now repairs filesystem permissions if necessary.
- Pressing cancel in the connection alert window now cancels all connection attempts for terminated processes.
- Improved alert timeout behaviour.
- Improved handling of DashboardClient application.
- Improved detection of Unix executables.
- Fixed an issue which caused an "Internal communication error" message.
- Fixed an issue where preference settings were non-persistent.
- Fixed an issue which caused missing traffic indication in menu bar item.
- Fixed a rare kernel panic.
- Removed obsolete help pages.
- Various other bug fixes and improvements.