Alerts you about outgoing network connections for your Mac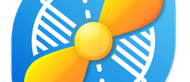 What's new in this version:
- New rules can now be created by dragging an application icon into the rules window.
- Added a new "Turn into Global Rule" command to contextual menu.
- Improved alert message when attempting to delete a protected rule.
- Improved detection of invalid process paths.
- Added "via" info to summary of "Don't show in Network Monitor" rules.
- The "Buy" button is now removed after successful registration.
- Fixed: Clicking in the application column didn't select all rules of this process.
- Fixed: Changing a rule's "approved" status didn't immediately update the status icon.
- Fixed: Long hangs after accepting / editing rules.