Very fast BitTorrent Client and Cloud File Downloader for Mac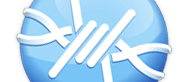 -
100% Safe
-
Open Source
What's new in this version:
- Fixes issue where a corrupted .torrent inside the libtorrent folder would make FrostWire crash on startup.
- Fixes issue where partial downloads from search results would download. the rest of the .torrent files.
- Fixes bug on search results display where action cell would dissapear when clicking on the play preview button.
- New jlibtorrent 1.1.0.19.