Very fast BitTorrent Client and Cloud File Downloader for Mac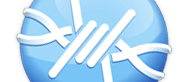 What's new in this version:
- New status/control transfer buttons to Seed and Share transfers.
- New 'Close All Tabs' action for search result tabs.
- Youtube search updates.
- Fixes issues with playlists in Library.
- Minor user interface adjustments on Library tab.
- jlibtorrent library updates.