Very fast BitTorrent Client and Cloud File Downloader for Mac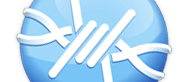 What's new in this version:
- New http engine based on okhttp, uses pooled connections, less threads, less memory. Faster and more reliable search & cloud downloads.
- libtorrent/jlibtorrent core update (v 1.1.0.9).
- Fixes KAT search.
- Fixes Bitsnoop search.
- Fixes EZTV search.
- Removes Radio functionality from Library.
- When the search options are opened, the keyword textfield is autofocused.
- Java Runtime upgrade to v1.8.0_60.
- Codebase cleanup and refactors.