Very fast BitTorrent Client and Cloud File Downloader for Mac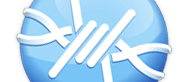 What's new in this version:
- When transfers are finished they no longer show as 'Paused', they show as 'Finished'.
- Fixes issues with incomplete files.
- Fixes issues importing too many songs to iTunes playlist.
- Fixes issue on which adding a whole torrent after starting a partial download would not merge the two and continue to download the rest of the torrent.