Very fast BitTorrent Client and Cloud File Downloader for Mac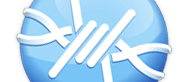 What's new in this version:
- New Feature: Preview audio search results from Archive.org.
- New Feature: Decide wether or not to seed handpicked files of torrents (aka Partial Downloads).
- New Hacker Feature: Change the location of FrostWire's settings folder. Great if you want to install FrostWire on a removable disk and you want to maintain settings and download states.
- Fixes bug where the internet search box would be disabled after sending file to friend.