Very fast BitTorrent Client and Cloud File Downloader for Mac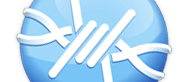 What's new in this version:
- New Feature: Includes search results from archive.org, which indexes millions of public domain and creative commons works from all over the internet.
- New Feature: playlist songs can be re-ordered with drag and drop.
- New Feature: all songs in a playlist can now be exported to a folder.
- Upgrade: Improved Unicode support for Chinese characters.
- Upgrade: mplayer update for unicode character file playback support.
- Upgrade: Search architecture upgrade for much faster search results.
- Upgrade: Considerably faster mp3,mp4 parsing in the library, creating playlists is now faster than ever.
- Upgrade: New more explicit Wi-Fi sharing icons.
- Upgrade: Updated radio station database.
- Upgrade: up to 20% faster listing of files in the Library.
- Upgrade: Video player upgrades for better experience.
- Bug fix: screen-saver no longer kicks in during video playback.
- Bug fix: UPnP Wi-Fi sharing discovery consumes 84% less CPU on
- congested local networks. Fixing reported slowdowns and reducing
- considerable power consumption for laptop users.
- Bug fix: X11 related error fix.
- Bug fix: Number of files being shared includes the number of torrents
- being seeded.
- Bug fix: Library search issues related to unicode characters.
- Bug fix: Multiple null pointer exceptions and crashes fixed.
- Bug fix: Fixed rendering issue related to wrong parsing of bitrate
- string data.
- Upgrade: (Developers) ant compilation scripts cleanup.
- Upgrade: (Developers) use of 'frostwire-commons' repository to share
- common code between FrostWire for Android and Desktop projects.