Very fast BitTorrent Client and Cloud File Downloader for Mac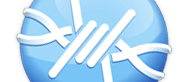 What's new in this version:
- Upload ratios will not be enforced to 30% of downloads anymore.
- Users will have free will to set the upload ratio of their preference.
- Update autodownload now supported for mac.
- Updates can now be distributed via both BitTorrent and HTTP.
- HttpFetcher improvements for less resource consumption.
- HttpFetcher now supports large HTTP file downlods (progressive download).
- Improvements to Send File to a friend.
- Fixes bug where some finished Downloads wouldn't "Show in Library"
- Bug report system revised.