One of the best multi-format media player for Mac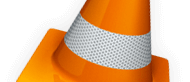 What's new in this version:
- flv and mpeg2 seeking.
- wmv, wav, rtsp and ssa support.
- Fixes for Qt and MacOS interface.
- Fix of an integer underflow in Real pseudo-RTSP module.
- Translations updates.
- Port of the ZVBI module to Windows for full teletext support.
- Codecs updates for Windows and Mac OS.