One of the best multi-format media player for Mac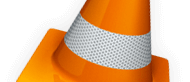 What's new in this version:
- This is a bugfix release. VLC media player 0.8.6e and earlier versions suffer from security vulnerabilities in the Subtitle demuxer, Real RTSP demuxer, MP4 demuxer and Cinepak codec.
- This release also includes improved video output on multi-screen setups running Mac OS X and compatibility with Windows 9x/ME has been restored.