MP4 muxer and editor for macOS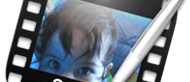 What's new in this version:
- ChapterDb support. Search in ChapterDB database from File -> Import -> Search Chapters Online… or add the toolbar item by customizing the toolbar. Result quality may vary.
- Fixed MPEG-4 Visual tracks muxing from mp4.
- Added an option to automatically add the missing audio fallback tag to ac-3 tracks.