MP4 muxer and editor for macOS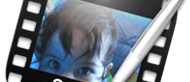 What's new in this version:
- Fixed a crash that could happen when trying to open a srt file on 10.9 or earlier.
- Media characteristics tags are now supported. You can use this feature to tag for example a SDH subtitles track or an auxiliary track. QuickTime will use this settings to append a "SDH" label in the tracks selection menu or let you select two different tracks with the same language. See the QuickTime File Format specification for more info. You can edit these kind of tags from Edit -> Media Characteristics Tags menu.