MP4 muxer and editor for macOS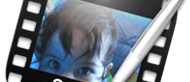 What's new in this version:
- This release requires OS X 10.7 or later.
- Added ability to update chapter track titles from Handbrake-compatible chapters CSV file.
- Added a shortcut to the "Send to Queue" menu, cmd-b.
- Added a "Open in Queue" menu item.
- Fixed the size of the artworks from iTunes Store.
- Added Mexican iTunes Store.
- Fixed a good number of bugs.