MP4 muxer and editor for macOS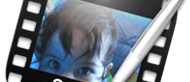 What's new in this version:
- Updated TheMovieDB API.
- Added iTunes Store metadata importer.
- Improved ratings selection.
- SRT -> TX3G conversion improvement: font color, subtitles position (bottom, top), forced subtitles. (Refer to the SrtFileFormat? wiki page for an example).
- Various bugs fixed.