It is designed to help you read and annotate scientific papers in PDF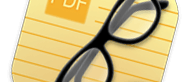 What's new in this version:
New Features:
- Add option to display line script and go script command to not select text.
- Allow resizing freehand notes, press Shift to resize proportionally.
- Expose preference for using sequential rather than logical page numbers.
- Expose preference for adding author name to new notes, also through AppleScript.

Bugs Fixed
- Don't draw page shadows when not showing page breaks.
- Fix freehand note selection highlight on rotated pages.
- Try to target current page on low zoom when scrolling to a page.
- Clear user name for new Skim notes by default.
- Highlight full line for reading bar.
- Fix export panel on macOS 13.