It is designed to help you read and annotate scientific papers in PDF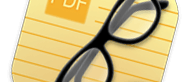 What's new in this version:
- Fix auto hide for some scrollers.
- Fix a toolbar image.
- Fix showing of toolbar customization palette.
- Don't reopen last open files when opening a file.
- Reinsert workaround for Page Up/Page Down bug Apple refuses to fix.