It is designed to help you read and annotate scientific papers in PDF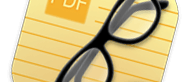 What's new in this version:
New Features
- Try to order notes right to left with such languages.
- New toolbar buttons for Book Mode and Page Breaks.
- Add PDF-TeX sync preset for Atom.

Bugs Fixed:
- Fix links to Wiki.
- Fix Favorite Colors toolbar item on Yosemite.
- Fix history highlights on Yosemite.
- Workaround for wrong order of page navigation by scrolling in Yosemite.
- Fix bug in undo for bookmarks deletion.
- Fix script menu icon in dark mode.
- Improve file update checking, can now detect file replacements.
- Avoid a hang in the Preferences on Yosemite.