It is designed to help you read and annotate scientific papers in PDF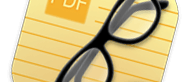 What's new in this version:
New Features:
- Allow editing text note properties while editing text.
- Hold down Shift on Favorite Colors for sticky change of default color.
- Smoothen freehand notes.
- Better default placement of new notes around selection.

Bugs Fixed:
- Improve minitaturizing snapshot windows.
- Fix TeX-PDF sync for file name containing non-ASCII characters.
- Coalesce tablet pen events while drawing freehand.
- Fix maximum scale factor in some controls.
- Correct placement of notes after note conversion when saving for some PDFs.