It is designed to help you read and annotate scientific papers in PDF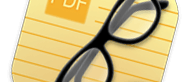 What's new in this version:
New Features:
- New hidden preference to disable automatic search after opening from Spotlight.
- Add PDF-TeX sync preset for Sublime Text 2.
- Use save options for export without notes or with embedded notes.
- Delete notes using tablet erase tool.

Bugs Fixed
- No mouse event coalescing during drawing of freehand notes.