It is designed to help you read and annotate scientific papers in PDF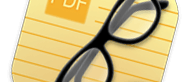 What's new in this version:
New Features
- Support for .webarchive export templates.

Bugs Fixed
- Make sure page popup is updated in snapshot zooming.
- Update synctex parser to latest version, with some fixes.
- Make sure the favorite colors toolbar item is properly updated when colors are added or removed.
- Fix resetting PDF display settings after presentation.
- Update help on display modes.
- Fix used mail program.
- Fix for interpreting selections in AppleScript.
- Avoid calling a method not defined on Leopard.