It is designed to help you read and annotate scientific papers in PDF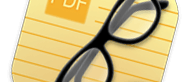 What's new in this version:
- Fix offset of color swatches in notes table.
- Fix mixup of cursor images.
- Update colors for history highlighting when key state changes.
- Fix adding favorite colors by option-drop.
- Reenable tool-tip preview on links and anchored notes.
- Fix initial opening of table of contents pane.
- Coerce initial scripting properties passed in with "make" command.
- Workaround for memory problems with full screen fade out on some hardware.
- Some fixes to AppleScript support.
- Allow saving notes to locked and read-only files when permission is granted.
- Fix PDFSync support.