It is designed to help you read and annotate scientific papers in PDF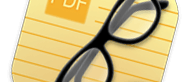 What's new in this version:
New Features
- Allow editing the text of generic non-anchored notes using a little window.
- New bookmark to save the current session.
- New bookmark for a file including full setup. Hold down Shift and Option to see the menu item.
- New hidden preferecen to disable preview tool tips in tables.
- Replace the Italian localization (Thanks Mauro Mazzieri!).
- Renamed hidden default to use sequential instead of logical page numbering.
- Expand some table of contents items initially.

Bugs Fixed
- Improvement to finding the editor script for a preset synchronization, fixes sync for BBEdit.
- Remove incomplete Italian localization.
- Avoid empty window titles for note windows.
- Avoid keeping the system from going to sleep.
- Fix a bug that could cause a hang when using the note table.
- Fix some leaks.
- Fix page numbers in thumbnail table in Spanish localization.
- Updated SyncTeX support, containing fixes for ConTeXt.
- Ignore some more errors due to unsupported extended attributes when reading notes failed.
- Make sure any edit in the note table is committed before saving.
- Explicitly resolve symlinks in file names used by PDFSync and SyncTeX, as Apple fails us.
- Improved accessibility overrides, hopefully fixes a crasher.