It is designed to help you read and annotate scientific papers in PDF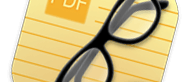 What's new in this version:
New Features
- Go to selected note from table using Enter key.
- Many improvements to accessibility. Add accessibility information to toolbvar buttons, and to notes and links in the PDF.
- Use Control-Option-arrow to resize notes to avoid conflict with Spaces.

Bugs Fixed
- Fix crasher on Tiger due to font preference control.
- Fix undo of text for anchored note.
- Open PDF with wrong extension as PDF instead of PostScript.
- Fix AppleScript save command with file type passed on Leopard.
- Fix keyboard selection of active note or link.
- Fix crasher when setting empty text in anchored note.